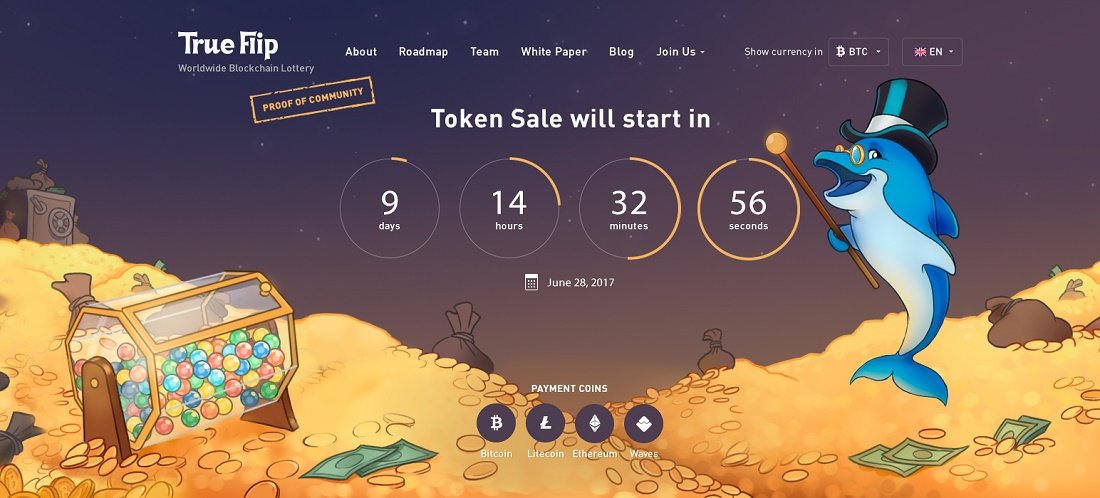 I have been watching lottery and gambling sites very closely due to my freelance job for the last couple of years. I remember hundereds of sites and projects in this period. Most of these sites did´t last long as they turned out to be a scam, some of them simply stopped the service, and a few left ones can´t get enough players as the community can´t tottally trust them.
Finally, there is a lottery site where you can try your luck without being worried. It is called True Flip. What makes this project so special is that like every other decentralized system, you do not need to trust a third party. It is transparent, open source blockchain lottery. I could go more into details and show the algorithm, but i know most of you whether don´t know much about the basics of the system or read enough in the past to find it boring. In case you want to read more about it, please visit Whitepaper page to check it out.

Buying a ticket is very simple for the players. You visit True Flip website and register with an e-mail address. There is no need for any other information, so it allows players so the be completily anonymous. This is another benefit of using True Flip. No body will know if you win a prize. Once you register, you can deposit and buy a lottery ticket. You can use Bitcoin as well as LTC, DASH and ETH for depositing. A ticket is played by choosing 5 numbers among 49 number (from 1 to 49) and adding an additonal number in the add among 26 numbers (from 1 to 26). There is also auto-fill option for the tickets. It is basically like a normal lottery and winning table and possibilities are above. Current jackpot is over 41BTC and i think it will not take long before we start seeing 3 digits numbers there. Lottery runs take place every day at 08:00 PM (GMT).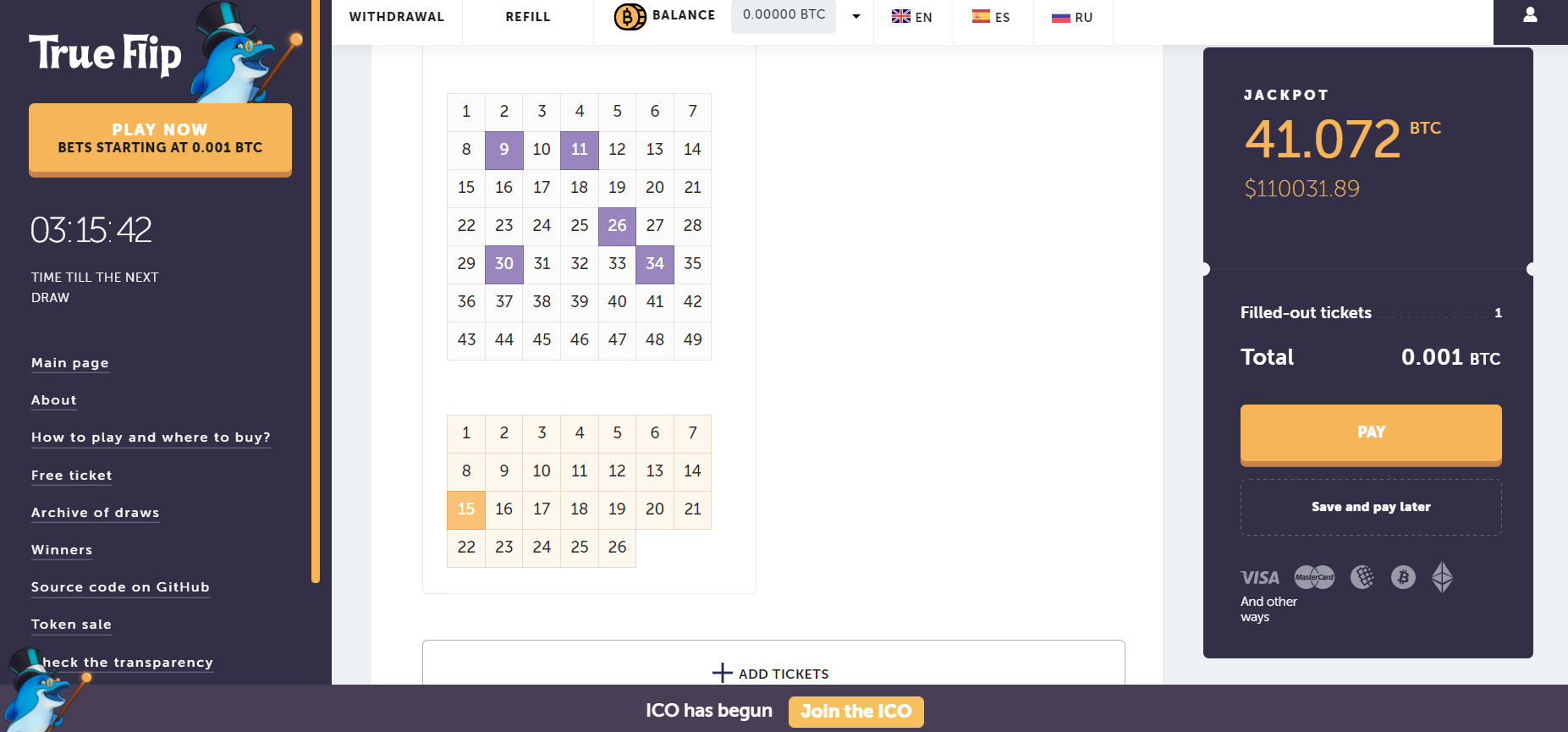 Once you sign up, you will be able to get your very first ticket for FREE. Fill-out this form and you will be able to play one lottery ticket for free. There is also a generous affiliate program which gives you lifetime 2% of all your ref earnings. It means if a referral of yours hit the jackpot 5 years later, you will stil receive %2 of what they won, and this rewar will be coming from marketing budget so your friend will not be loosing anything. Additional to this system, you also get one free lottery ticket for each referral that registers via your link. According to their Whitepaper, a few other lottery systems will also be added in the future.
This is only the start of this incrediable project. The ICO just started today and it is a great oppurtunity for those who are looking for a promising project to invest money in. You can visit https://ico.trueflip.io/ and check out details for it.
%70 of True Flip Tokens(TFL) will be sold during ICO, %10 will be used for bounties and advertisements, and %20 will be used as team award. 21 million TFL which will target 6125BTC and this amount will be siplitted where 20% to %50 will be used as jackpot and rest of it for operation, developement and marketing costs. Selling those tokens will last for 30 days and as usual there will be some price increase every week. At the end of the process if there are any tokens left, they will be removed. As i mentioned above, the ICO just started today and you are in the best stage of it if you want to invest in TFL.
Sources
Whitepaper
https://ico.trueflip.io/
https://trueflip.io/